Reclaiming Minute Maid
Despite being maligned for contrived quirks, Houston's pad benefits from creative architectural design, as the Juice Box remains the most all-around underrated, misunderstood ballpark in the majors
May 9th 2010: Infield Club Seats
May 22nd 2010: Diamond Club seats
May 14th 2011: Infield Club Seats
August 23rd 2013: Diamond Club seats
Click here to go directly to gallery
Important Note: As discussed on the home page, Minute Maid Park recently added a disastrously ugly array of ads. In what may be the most significant adverse ballpark aesthetic alteration since the Connie Mack's "spike fence" in 1935 (i.e. think if the Wrigley rooftop bleachers were obstructed today), flurry of adds could only been described as a complete distance, throwing off the aesthetic balance, muddling the attractive archways, and obstructing an unmatched view of the 4th largest city. This was a particularly significant review for me because it was one of my longest and opposed the wide consensus opinion on this park. In what is perhaps the most contrarian piece of work I have written on this website, I was the only one that liked this park and took pride in defending it! But everyone hated it originally anyway. The ratings have been changed to reflect these ugly alterations. I am attending Minute Maid again in August and will provide pictures and other updates. Review originally written in 2011, positive tone of article unchanged; its a good read.
By: Cole Shoemaker
"What is your least favorite new ballpark in the majors?"
"Probably Minute Maid Park."
"Why?"
"Because it has a damn hill in center field!"
Maybe it's just me, but that's about as far as the discussion of Minute Maid Park ever gets on ballpark websites or between fans.
No ballpark has ever puzzled me as much as this one. As much as I, like many ballpark aficionados, despise what Minute Maid Park represents with its over-the-top hokey features, I have come to appreciate the structure itself, in what is my most complex review to date.
I'd say my ratings mostly reinforce the general consensus on a ballpark. But I think everyone sorely miscalculated here, mostly because the ballpark had so much going against it in terms of public perception. Roof. Heat. Hitters Park. Gimmicks. Houston. Roger Clemens. The Bushes. Enron. Crappy new name. It doesn't exactly have the best brand. People always fixate on the superficial aspects of the park, and I did at first as well. But no ballpark quite surprised me like this one, so I think we need to reexamine some of the underlying assumptions for which Minute Maid is ridiculed.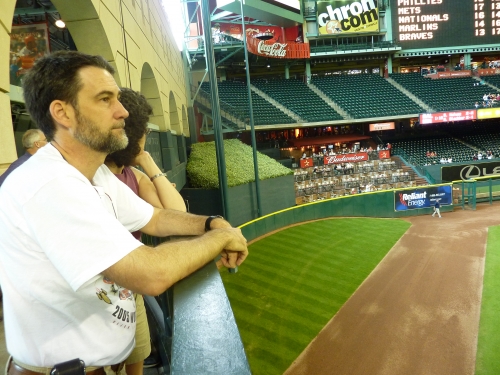 In terms of public perception, Minute Maid Park is known for its synthetically quirky features, such as the hill, the flagpole in play, and the train.
Oh, those gimmicky, forced quirks. Specifically the hill, the in-play flagpole, and the train.
"Minute Maid's purposely created eccentricities represent everything wrong with the new retro ballparks. Designers think they can add cute features just for the sake of being cute. What happened to contextual design? That's what Camden was originally about; this is faux character. And how about the cheapening of the game itself? It doesn't get more phony and contrived than Minute Maid Park!," critics and traditionalist would say.
So recently, architectural critics and ballpark aficionados put their foot down. "Nostalgia just for the sake of cuteness without context is artificial. These faux retro parks are an abomination." It eventually became fashionable to bash this park if you were a critic or simply an opposing fan. Minute Maid really suffered the brunt of the backlash against the excess of the retro movement, somewhat unfairly in my opinion.
And yeah, they are mostly right, but when you look past the fact that the design is muddled with quirks and distractions, the architectural vision of the ballpark is brilliant. I'm actually not a fan of the quirks, but how does that ruin an entire ballpark?
I often stress contextual appreciation of the site above all else, and Houston does it as well as any ballpark, retractable or not. Minute Maid Park took one element in the local community, Union Station (old train station), and used it as a framework for the entire ballpark, including the roof. The process of incorporating an old building into the design is certainly the most explicit manner to integrate the area's context into the ballpark, but it has to be well done, unlike Petco Park. Unlike the former, Houston's version is consistent and universal.

While the park is overshadowed by it's overt contrivances, Minute Maid is easily the most attractive retractable roof park in terms of interior design. Contrary to the others, Houston's ballpark responds to the contexual forces of the city with a superior use of space and effective application of Union Station. The attractive cream archways and Houston skyline tie the scene together perfectly.
The adaptive reuse of Union Station is contextually integrated with all aspects of the park. Subtle design cues from the general train motif are delicately interwoven into the interior design. In a perfect application of context and theme to function, the sliding glass retractable roof tracks ingeniously serve as a mechanism for executing the train track aesthetic. And those gorgeous beige stone arches tie it all together; in what is one of baseball's most underrated interior elements.
Few ballparks, retractable of not, executed a design which such depth and aesthetic vision. It may be a bit gimmicky, but there's nothing as bold or genius in the majors. It's also about as attractive as the inside of a roofed ballpark could be, strategically maneuvering an excess of natural light through the worlds largest sliding glass door.
Perhaps what's most remarkable about the aesthetic design of Minute Maid is how its roof doesn't contradict its design principles. For me, Safeco, Miller, and Chase are like state of the art airplanes with brick exteriors. The clashing of retro bricks and modern roofs looks remarkably incongruent. In Houston, we have a roof that reinforces and maybe even enhances the style of the building. And no one bothers to see that because it contradicts the ever-sacred outdoor baseball mantra.
You can argue whether it looks good or not, but it all goes back to having continuity between elements and simply having a contextual aesthetic vision. You can argue Safeco is the best retractable roof park overall, but Minute Maid has the best architectural design. You heard it here first.
Now you can criticize Minute Maid on its small footprint and relatively mediocre amenities. It's got to be first ballpark to come in under budget, so it's lacking some of the thoughtful artistic design flares of others. They did go cheap here. Just think, Safeco cost over twice as much.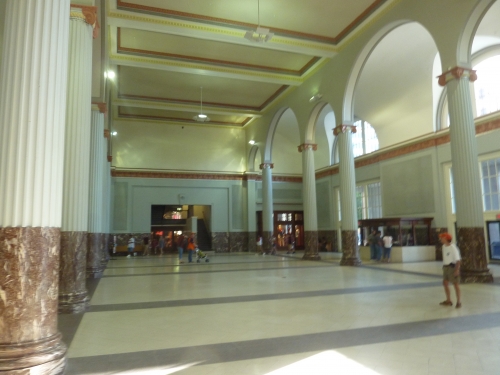 Minute Maid Park is gorgeously reframed around the classic Union Station. Inside shown here.
But they still manage to excel in enough objective measures to be a great park. No one seems to realize it, but it actually provides more open air space in the outfield than Safeco. When you look closely, the upper decks are the most cantilevered of 90s/early 00s ballparks. The downtown location is getting better, despite not equaling others. They pack tons of local touches into the park, including high quality local cuisine. And the new state-of-the-art video board system (and out of town scoreboard system) is objectively the best in the majors. It's extremely intimate and fan friendly too, to the point where those walking outside can peek through the arches across the concourses and see the field.
Just to be clear, I have always chastised forced and contrived features. There will be plenty of criticism (that simply echoes the loud and incessant consensus) later. And you can always argue that the climate-controlled experience can never feel like true baseball. But the bottom line is people grossly underestimated Houston's park: contrivances clouded the ballpark community's thinking and many people refused to look past them. In other words, even once you get past the fixation of "this is gimmicky as hell," it's a hell of a ballpark.
While its extreme features don't add to the appeal, its underlying merits speak for themselves. Just looking at the Astrodome, Houston isn't afraid to build a visionary, innovative structure, and while Minute Maid Park couldn't be more different, it's no exception.
NEXT - Setting
Gallery